I'm covering a lot of musical territory on this one – from psych to ambient to a Stereolab cover in Spanish. This episode will trend towards the dreamy around the middle, so get cozy… but don't worry, the Epic45 track will bring you back to reality.
Starting off is Astrel K, the solo project of Rhys Edwards of Ulrika Spacek recently released on the Duophonic label. "Gnistrande Snö" harkens back to some of the more slack moments of Steven Malkmus, or even middle-era Velvet Underground, forming the perfect backdrop for late summer here in Michigan.

This flows into "Complete Heartbeat" (04:36) by xPOEMSx, a new collaboration of "psychedelic loops" featuring Eric DeJesus and Lazy Salon's Sean Byrne – a guy who's been pretty busy this year with this and another project, Camino Sound. Check out their recent release Hermione The Seagull.
For his latest album Chromesthesia Chronicles, ambient guitarist Tristan Welch teamed up with visual artist Steve Loya, who sent paintings to Tristan for musical inspiration, who in return sent Steve musical passages to paint to. The result is an album of 9 songs and their accompanying paintings – a combo audio/visual experience. "Chromesthesia 12" (08:12) is the sound of sunlight dancing on waves just offshore, and quite entrancing.
Further invoking the image of shimmering water, alongside weathered driftwood and shacks, is Sea Glass – the side project of The Leaf Library's Matt Ashton with Melinda Bronstein. "Night Tide" (13:30), from the recent album Shifts, puts you on a beach at midnight, zoning out to an acoustic guitar around a fire.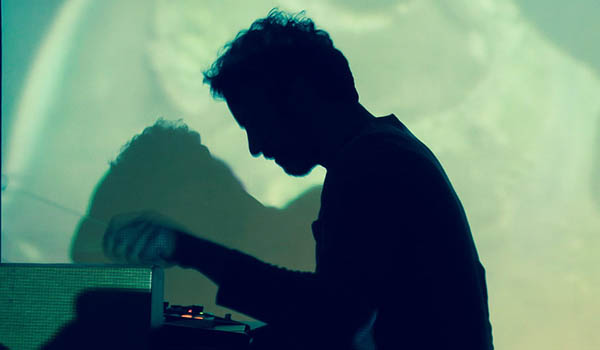 Imagine falling asleep in a Mumbai cinema, lulled by the incidental music of an old Bollywood movie. Add layers of warped loops and textures to the dreamstate, and you have "Brindavan Mon Amour" (17:23) – the title track of an ambient project incorporating library music and drone, from Chicago-based musician PM Tummala.
England's Epic45 are on the verge of releasing their second album this year, and have offered up a preview track entitled "Buildings Aren't Haunted, People Are" (20:47) which helps inject some intensity into this episode. Look for the album Cropping The Aftermath in late October.

The darker edge of J.Zunz – one half of Lorelle Meets the Obsolete – emerges with "Ouve-Me" (25:28) from her latest Hibiscus. Over the course of the album, she paints a bleak sonic portrait of the internal and the external, reflecting her personal state at the time, and the state of the world in the present and future.
Closing out the set is a cover of Stereolab's "Changer" (28:42), done en Español as "Cambia" by the Argentinian space duo Bosques. They've just released a compilation EP of covers from The Velvet Underground, Spacemen 3, Spiritualized and Stereolab, and are currently working on some new stuff to be released soon.
As always thanks for listening, and sign up for the email newsletter to get monthly updates on these and other bands featured in the podcasts.
Stay safe out there…
Podcast: Play in new window | Download
Subscribe: Apple Podcasts | RSS