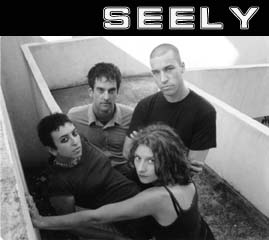 This article was originally published in the first issue of Masstransfer, 1997.
With a style that fits somewhere in between the math-rock time signatures of Polvo and the dreamy textures of Windy & Carl, Atlanta's Seely has opened eyes on both side of the Atlantic. The band was formed two years ago by the nucleus of guitarists Steven Satterfield and Lori Scacco, with the rhythm section of Joy Waters and Eric Taylor being added shortly after. They recently played at the venerable Lounge Ax in Chicago with a set consisting of 9 songs. Seely opened with "Exploring the Planets" off their latest album on U.K.'s Too Pure label, "Julie Only", an album that had me mesmerized from start to finish. Prior to "Julie Only", the band had released an album entitled "Parentha See", on the American label Third Eye. That project stirs mixed feelings from the band because of friction between them and the label's owner. Most of the tracks from that album were re-recorded in Chicago with the help John McEntire, ending up on "Julie Only". They followed with some songs off their forthcoming album: "Adios", a mellow instrumental; "Love Letters to Rambler"; "Consumer Pet"; "It's Your Day Karen"; "The Sandpiper"; "How to live Like A Kings's Kid", another track from their current album; "San Salvadore", an unreleased track to be included on an upcoming compilation CD; and finally, "Like White".
The band shares a similar vibe with Northwestern space cadets Jessamine – both bands benefit from the shared interplay between male and female vocalists, although Seely's sound is based more on guitars than cinematic atmospherics. Lead guitarist Lori Scacco, primarily inspired by late 70's and early 80's hard rock, adds a subtle yet aggressive melody over each of the songs. Drummer Eric Taylor rounds out the sound by altering the rhythms using obscure time signatures. It makes for a very engaging mix, as well as an entertaining show. Seely plays with a tight disciplined sound that is only achieved through hours of practice and frequent touring. They are currently wrapping up their follow-up on Too Pure entitled "Seconds", due out around September.