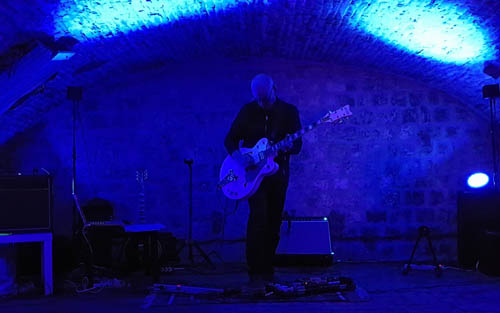 This article was originally published in the fifth issue of Masstransfer, 2002.
With textures that drift in and surround you like a dense fog, Yellow6 has the ability to sound both fragile and thick at the same time. At the moment, Yellow6 and it's human-form, Jon Attwood, is quite the prolific artist, appearing here and there (and here on the Masstransfer:05 compilation), constantly refining his unique style. Y6 came to being in 1995 as a home-recording project, and has evolved to the digital realm, as well as to the live stage.
2002 ushered in the "Lake:Desert" full-length on Ochre, an astounding piece of work. Cycling between pleasant and unsettling, gorgeous and eerie, the mood keeps you intrigued like a strange plot twist. Such is the work of Jon Attwood – each song tells a story, and you could just envision the scenes that would accompany some of them. The disc begins with the quiet beauty of "Sonoluminescence(#3)", slowly crystallizing into shape, then breaks into the dark reverberations of "Half-Life". "Summersunfades" easily get my nomination for blissiest song of my life – so much with so little. The light fades back into shadows for "Stonescape", punctuated by the stark piano notes. Delayed percussion set the backdrop for the tracks "Hardwire" and "Post", but each diverges into its own range of ever morphing sonic patterns. Coming from the industrial Midwest, I can tell you that the song "Grey#3" would adequately portray the dreary blight of our urban landscape. Yellow6 has a way of bringing the future to us now, and some of it ain't pretty. Still, there's a bright spot among it, you just have to stick around until it makes itself known. A short reprise of "Sonoluminescence(#1)" concludes the arc, but its paranoid feel leaves the listener wanting to sleep with the lights on.
An amazing collection of remixes were produced by friends of Yellow6 for the "Source:Remix" CD, issued on England's Endorphin Records as the first in their new "Research and Development" Series of releases. The roster includes Rothko, who kick of the set with their take of "Silhouette", followed by Lackluster 's rendition of "Expressway427". Landing makes their appearance with a highly reflective version of "Marble #1", an alternate take from the track on their 3-way split with Yellow6 and Rothko. Other highlights include Portal, and their highly uptempo track "Redleitmotiv"; the droning Galena with "Summersend"; and Maps & Diagrams brings back the rhythms on "Halflife CPL-33". Rothko returns to close out the disc with a reprise of the intro track "Silhouette", even more beautiful and spaced out.
Jon has recently released a 5-album collection of new music entitled Reflect to mark 20 years of Yellow6, which he began in 1998. Catch up on the latest with Yellow6 at http://www.yellow6.com.