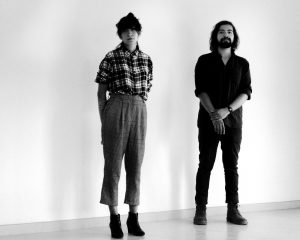 From the moment I first heard them on the "Psych For Sore Eyes" compilation EP 6 years ago, and up to today – Lorelle Meets the Obsolete remain one of my favorite bands of the decade. The songs they produce are so genuinely unique, there are no direct comparisons or sonic competitors. 
After hearing the track, I had to look for more – and I found Corruptible Faces, a swirly amalgam of guitar-noise-drone mixed with hypnotic beats and acoustic treats, layered with the hazy alternating male and female vocals of Lorena and Beto. It took a few months for that album to really sink in, with each passing week revealing a new favorite track.
A few months after the album came out, the group embarked on an extensive US tour that took them from one coast to the other. They made a stop off here in Michigan, playing at Small's in Hamtramck, and I had the good fortune of putting them up for the night at our house in Ann Arbor and getting a chance to chat with them about music and whatnot. What a great group of people!
Their follow-up the next year, titled Chambers, was a much darker and rougher affair, and didn't contain many tracks that I clicked with – though a few rose above the murky haze, like "Myth of the Wise". However, I was totally blown away by 2016's Balance, – a return to form and so much more. Again, each track revealed itself slowly after repeated listenings – until you could sense the musical threads that are deftly woven throughout the album.
2019 marks the launch of the band's record label, Registros El Derrumbe – with the release of De Facto, their fifth album. Continuing down the sonic path laid out in Balance, the songs here cover vast musical territory – and for the first time sung entirely in their native Spanish. For a sampling, listen to "Linéas En Hoja" on the most recent Sonixcursions Podcast.
To get an idea of where this duo's style started out, listen to their debut album, 2011's On Welfare. There's a playful magic in those early songs that instantly draws you in, and it's not as abrasive as some of their later work. An excellent example is the song "These Days", featured in the video above.
Following Lorelle Meets the Obsolete's musical arc over most of the past decade, I'm excited to see where they go next. With each release, they continue to set themselves apart from their psych contemporaries.