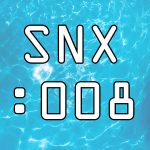 As this crazy summer continues rolling on, I've been immersing myself in all the current music floating around – which has skewed heavily towards the ambient and electronic direction lately. The AirPods will have to be surgically removed from my ears.
Holy Wave gets us started with the opener off of their latest Interloper. "Schlettering" displays a more avant-pop vibe than their previous guitar-based works from a few years back, but the sound has been growing on me.
A shared love of vintage synths and German music from the 70s has inspired a collaboration between Travis Thatcher (Voice of Saturn) and Dave Gibson (Heron & Crane), known as Personal Bandana. After releasing their debut in 2018, they are working towards the release of their second full-length, This Time It's… in the Fall of 2020, featuring the included track "Chloroplasts".
Following along the vintage synth path, the aquatic sound of Polypores latest album Azure should help cool things off this summer. "Coral Palaces" serves as your soundtrack for an extended virtual deep-sea diving session.
Moving from underwater scenes to the industrial age, Gilroy Mere gives us "The Age Of Trains" from the recent Adlestrop album – an aural homage to rural English train stations slated for closure in the 1963 Beeching Report. Quite a fascinating audio adventure.
Jim Musgrave, aka Land Equivalents, continues his exploration of eclectic electronica on "Our Friend And Colleague" from his latest Industrial Accounting EP – blending analog synth sounds with rhythmic fragments that constantly evolve and morph over the course of its duration. 
Forest Robots is the work of musician Fran Dominguez, this time around focusing on minimal compositions with his upcoming release After Geography. The track featured here "Of Birds Migrating In The Distance" provides a glimpse into a meditative soundscape while providing an unsettling undercurrent that is hard to get away from these days.

On a slightly lighter note, Japanese multi-instrumentalist Nao Kakimoto – known as [.que] – offers a glistening guitar-based piece, "Film", from his latest And Inside from the Sound In Silence label. The songs span styles from "gorgeous twinkly folktronica, joyful dream-pop" to "nostalgic melodies, dark atmospheres and complex rhythms" – it's quite a sonic journey to behold.
For the final track, we are roused by the glitchy beats of Spectrals – "a virtual band created in lockdown times", made up of Matthew Shaw and John Robb. On "Zip Zam Zoom", The Happy Monday's Shaun Ryder recounts a tale of a visitation by a UFO on the streets of Salford, England many years ago.
As always thanks for listening, and sign up for the email newsletter to get monthly updates on these and other bands featured in the podcasts.
Stay safe out there…
Podcast: Play in new window | Download
Subscribe: RSS