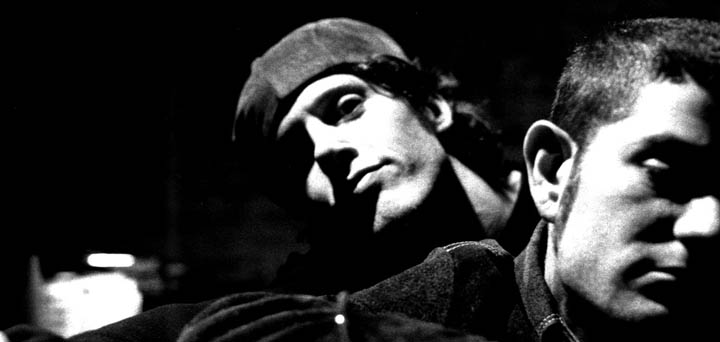 This article was originally published in the third issue of Masstransfer, 1999.
PRE
It has been said that in order to produce a great work of art, the creator must struggle and suffer to achieve the breakthrough that will make their art unique. If this is true, then Perplexa's new CD is a masterpiece, representing a leap forward in both song quality and musicianship. Sustained by guitarist Rob Schurgin and drummer Jon Wald, Perplexa has survived 4 years of personnel changes, studio relocations and a general life of poverty in order to truly express the music within them.
One thing that hasn't changed is the band's home label, Small Stone records, through which the band is in the process of fulfilling a 5 record contract. Their latest, "The Sun and the Moon Getting It On", represents over a year of strict D.I.Y. ethic – from recording in an unventilated factory loft, to piecing together the cover art on a friend's Imac computer. One thing that is for certain is their dedication and passion for playing beautiful vignettes that cover a range of emotion and energy.
PRODUCTION
For their third record, the duo began writing songs in Jon's living room with bass and drums, setting a strong structural backdrop. Loft space was procured in Pontiac, Michigan in August 1998, with recording commencing soon afterward. Focusing in on the rhythm elements, the duo spent months perfecting bass and drum tracks, searching for the best sounds. Along the way, learning hands-on how to work a 1/2″ analog 8-track recorder, run through a Fostex board.
By early December they had completed the basic tracks, and since the 1500 sq. foot warehouse loft space had no heat, the operation was moved to where Rob was living at the time. There, Jon added percussion tracks, while Rob did the guitar overdubs. Over four months were spent exchanging keyboard ideas and building layers. Phil Myers, a cellist that Jon had known from Ann Arbor, was asked to play on a few pieces. He took the master tapes, and recorded the parts at home. As evidenced by the final result, it turned out to be an amazing collaboration.
After sifting through the tracks and overlays, everything was mixed down to 2-track DAT tape, then into the computer. Sound Forge and Cakewalk software were used for smoothing out the tones and making the final adjustments. As the recording phase drew to a close, artwork was beginning to become a consideration. The decision was made to use the drawings done by their former bass player, Jenny Schmidt, a gifted local artist. Jon scanned the images into Adobe Illustrator, on his friend Nardo's new Imac computer.
When the artwork was finished, and the CD was mastered, they gave it all to Scott from Small Stone to begin the manufacturing process. I was lucky enough to get a copy a few days after the discs came back from the pressing plant.
POST
"The Sun and the Moon Getting It On" has a real earthy, organic feel, opening on a rather unsettling note, with "Hunt", then sliding into a mellower groove called "Late Night". Next, the spaciousness of "Voodoo" provides an opening which is soon filled by the MBV stylings of "Dublow Bone". "Beautiful Ride" is just that – light drums, strings, and hushed vocals. The urgency returns with "Unreal", the musical continuation of "Hunt". "Distress" gives the listener some breathing room, then builds into a cult-like incantation.
The cultish feel continues into "People", echoing a druid march, and "Fire Trial", which wavers between beauty and insanity. "Moon" is an excellent reprise of "Fire Trial", but made up of all strings. "This Glorious Forward", the last track, is where the hope returns and leaves the album with an excitement about the future.
…and Perplexa is definitely excited about the future. Following the September release of the disc, the band felt a little restless here in the Detroit area. They decided to move out to Los Angeles for a few months to hook up with a bass player and hang out with friends. A vacation was long overdue. However, these guys will soon be at work again working on an even more ambitious project. Keep your ears peeled for more from this incredible collection of musicians.