This article was originally published in the sixth issue of Masstransfer, 2003.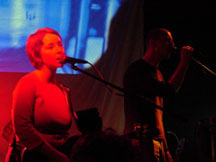 I couldn't pass this one up – going to another country to see a band from across the Atlantic, one of my favorites at the moment.  Sure going to another country was actually just crossing the tunnel to Canada, but since the band was Malory, I would have gone to Mexico to see them!  Their sound, which blends early 90's shoegazing (a la Slowdive) with modern mechanics and technology, is instantly engaging.  That said, I was really surprised that hardly anybody showed up!
Malory was playing shows in North America this year as part of the Alison Records tour, that included Skywave, Mellonova, and about five other bands.  They played in Windsor, Ontario, at a place called The Diesel Lounge – somewhere that Ratt or Poison likely played at the week before.
When we arrived, there were a few people, but most turned out to be members of the other bands performing that evening. Skywave was the first to go on, around 11:15, and they almost made me want to leave.  There's only so much ear-splitting noise I can take – I'm just not 19 anymore!
Finally, Malory took the stage around midnight, and it was truly enlightening.  These Germans are extremely professional musicians, and their sound, especially in this small space, was expansive.  They played a few selections from the recently re-released "Outer Beats" (an amazing disc), as well as a few newer songs. 
The drummer seamlessly integrated programmed rhythms into his live playing, which, being a drummer myself, is quite a feat for a live performance.  One of the guitarists mostly stood by his half-stack, generating wave upon wave of feedback-laden melodies, all carefully executed.
By the time they played their hit, "The Space of Your Mind", I was just about melting.  It was by far the best show I had seen in a long time – an experience I wish could have been enjoyed by more, but due to a lack of promotion or the fact it was in Windsor, nobody was there!  That's alright though, because it added to a more intimate feel, almost as if they were playing just for me.  Sure, that sounds like wishful thinking, but my audio wishes came true that night, thanks to Malory.