In hindsight, this year started off like a fairly normal one for Detroit musician Steve Swartz, former guitarist of the dream/gaze band Au Revoir Borealis who's been creating ambient soundscapes as Swartz Et for the past decade. I had the good fortune of chatting with him recently, and discussed many of the projects he's been working on as well as the general state of 2020 and beyond.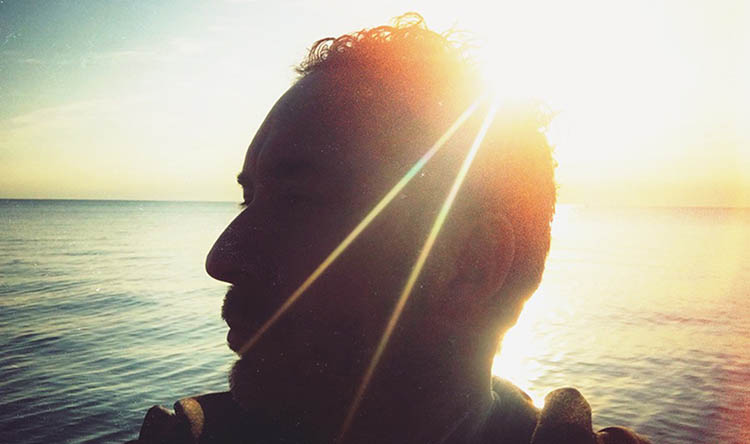 His latest release from this past June, Light Leaks, seeks to bring awareness to the pain of seeing loved ones with mental illness by using found sounds and human utterances along with electronics to build wave upon wave of audio emotion.
The album, in Steve's words, "explores how we see and interpret the world, how our experience of it is shaped by the giving and receiving of light and how being alive, in itself, is to be a fathomless and complex anomaly."
It reflects a continuation of a sound that is different than both the gazey dreampop and acoustic guitar material of previous efforts, yet constantly evolving organically as life events transpire and studio experiments bear sonic fruit.
Nighttide Re-issue
In 2010, following the birth of his first child, he took a hard left turn from his previous highly-structured songwriting to delve deep into flowing ambient music with the release of Nighttide. He would go on to release more of this style of music through the decade, a sound that was developed partly by necessity and partly by opportunity.
Steve explains, "the original genesis of Nighttide came because [the Au Revoir Borealis album] Dark Enough For Stars came out and then literally within a few weeks, my first daughter was born. When you don't know how to be a parent or any of that stuff, you're just sleep deprived, just trying to survive and figure it all out and everything. So a lot of that stuff started out in the afternoons, when my daughter would take a nap, I would play these really repetitive, simple melodic things or just these sort of chord texture things with an acoustic guitar and just kind of help calm her down and get her to take a nap."
Over time, these ideas developed further until he got them recorded as acoustic demos. "And then one day", says Swartz, "I was just like, I wonder what these would sound like, just buried in reverb with an electric guitar. There's a track called 'Mercy Lights' – I remember it was the first track that was officially recorded from that batch of little acoustic ditties. And so basically I just kind of kept doing that over and over again, then it was like: oh, this is a record."
2020 marks the 10-year anniversary of that release, and Steve has recently re-issued the album along with a few extra tracks he rediscovered while going through the master tapes. "I finished the Light Leaks record back in the winter time and then I was doing some archiving and stuff and I bumped into all these DVDs of archive sessions from the original Nighttide record."
Steve adds, "there was all these other versions of things and other mixes that I thought were interesting, but not really holding up well, like in the context of the record. And then one other idea that I thought sounded good, but just didn't really fit with the record. So I was like, I'm going to finish these out just so I have closure with these things after rediscovering them. And then working on them over time after Light Leaks was done, I was just like, this is not bad."
Looking for some feedback on the material, he shared some of the results with fellow Au Revoir bandmates Justin Van Slembrouck and Mike Carian. "They're like, you've got to release these man, you should do a special release. This is the 10th anniversary of this record coming out. And so I was like, all right, that's not a bad idea. "
Steve chose to release the special anniversary edition as a 2-cassette package, one with the remastered original album; the second containing the alternative takes and mixes. Since it's been a long (long) time since I've though about cassette tapes, I asked Steve where the idea for that came from: "The previous record I put out called A Living Thing – I did a limited run of cassettes and they sold out pretty quick."
He continues, "I did some shows on the West coast and people just snapped them up. It was one of those things where I thought, let's see how this material holds up on cassette. I literally just dubbed it all right out of Pro Tools and onto a stereo cassette deck and started listening to them in an old Walkman. And I'm like, these sound really good on tape, I'm just going to do a limited run of these on tape as well."
On Physical Media and Technology
Ever since the pandemic/lockdown began here back in March, spending this much time at home has led me to rediscover my physical music collection and explore new physical media as well. Steve agrees on this point, "you know what, I've actually been back into physical stuff too, because for awhile it was like, I got a lot of records and I got a lot of tapes and I got a lot of CDs. And then over the last few years I kind of got away from it just mainly because so many people weren't buying those things anymore. And especially once my kids were younger, I don't want to have even more stuff sitting around that they might like break or drop. But now they're older, they're more responsible. I've done some cleaning and selling of some things and now I really miss some of these physical items again"
Finding ways, any ways, to get off a screen and enjoy something IRL has become vitally important lately. One of the derivative health issues of this pandemic has been technology and general sensory overload, with our devices serving as our window to the outside world for news, entertainment, communications and even education in many instances. Steve mentions cassettes as one of those ways to de-screen: "I think that's one of the things that's been nice about getting back into cassettes myself. I've been buying more cassettes this year and some records and things like that. And I just love the ritual – I think that's the perfect word is the ritual – of opening it and then you put it on and you sit there and it sits in the room and it's a physical thing that makes sound and I can literally just set my phone somewhere else and let the music play and make food, help kids with schoolwork or, work on a design project or something like that."
"Having those moments of being less tethered has been very beneficial for mental health, I think."
"I mean like this year, it's obviously important to have a certain amount of knowledge because of all the really grave situations that are going on right now. But then at the same time too, it can be total sensory overload. I've definitely found myself this year especially wanting to chuck my phone out the window", he admits.
Beyond 2020
With such a creatively busy year almost behind him now, I asked what he had on his plate for 2021: "I definitely don't think I'm going to bite off that much next year."
Part of the burst of output was directly related to having available time, but also served as a way to process life-changing events. "I wasn't originally intending to release all this stuff that I did this year", he confides, "but then after my dad passed away in the spring, it was kind of my way of processing everything that happened, because it was totally unexpected. So I had to deal with this vacuum of my dad's suddenly gone, helping my mom rebuild her life, helping my children deal with the first real first loss of anybody really close to them."
Steve goes on to summarize his year with a few simple statements: "So, music and art is always how I sort of just processed everything; there was no work to do, just trapped at home. I kind of threw myself into music making". I think more than a few of us can relate to that.
Although not actively planning projects for the next year, don't worry about a lack of new material – his synthesis of life events has produced a venerable surplus of music. He concludes, "I haven't told anybody this, but I'm sitting on probably two more albums worth of material recorded this summer that I'm not sure what I'm going to do with yet, but it was just kind of the necessity for survival catharsis." Sounds like a great album name, Steve.